Viseum Sales Network – Complete Change of Sales Strategy
Viseum has optimized its sales for the growing market demand for its Product Solutions. The first phase of this innovation uses Viseum's LEVEL 1 demonstration equipment which introduces our unique Phased Technology Introduction Programme, with optimized time and investments for its supply and use. Our end users immediately realise security improvements with holistic savings, and this secures repeat and ongoing business. A phased introduction of further technology improvements steadily delivers the most up-to-date and future-proof security estate.
Viseum: The CCTV and surveillance industry-standard deterrent and automated security and situational awareness.
"With the heightened global demand for our security and surveillance Product Solutions, it is crucial ...

Learn More »

Viseum Certified Corporate Agents
Crucial to Viseum's regional growth is to identify the right professionals to help control this growth, innovation and initiatives needed to establish and control our customer base and trade relationships. Viseum remunerates its Corporate Agent's very well at the start of the business relationship and then exceptionally well as we increase our sales with each professional.
Investors
There are many investors already on board with Viseum and as a result are enjoying excellent international business with us. Viseum enjoys active investors and is also looking for more Board members to take on the role of Director for some of our regional companies. If you are interested to invest please email investments@viseum.co.uk with your contact details to arrange a call to discuss further.
Complete Change of Sales Strategy "A citywide CCTV project can start with a demonstration of ...

Learn More »

The Trusted Viseum Brand
The Viseum sale is always first about the Trusted Viseum Brand and the Viseum sales representative presenting this trust to the customer. The Viseum sale is never first about its groundbreaking technologies, but secondary to the sale is the major unique benefits of how Viseum technology solves each individual customer's specific problems, with immediate operational savings and improvements that no other organisation can deliver as standard.
The CCTV and surveillance industry-standard deterrent and automated security and situational awareness… Many countries are ...

Learn More »

Commercial Value
Typically worth $34m in each country as a Certified Agent, Reseller, Integrator, Distributor or Technology Partner. A Government Technology Transfer for countrywide security and surveillance projects can be worth up to $410m. In addition to this, the Viseum® Community SafetyWatch® Fully Automated Group-Shared CCTV Service Franchise is worth $200m.
Viseum delivers success for its customers by continuing to innovate and provide customisations for each project. Our expert project delivery managers are selected for their expertise and skillsets. They will use the latest field-proven know-how, methods and concepts to surpass the customer's technical challenges.
Countrywide security, surveillance and traffic management projects:
This is a 5 to 10 Year Technology Transfer and Licence Agreement. This optimizes budgets for governments in need of the latest CCTV security and surveillance technologies and at the highest quality. They also require constantly improving technology innovations to deliver its country's Public Security Services, and remain ahead of the increasing threats of crime disorder and terrorism:
Identify the customer's short, medium and long term goals and objectives.
Understand the customer's appetite for investment e.g. from 5 (typically $160m)  and up to 10 Year Safe City Safe Nation Technology Transfer (typically $410m or 10,000 cameras), enterprise or technology transfer contracts (100,000 cameras).  This is sometimes agreed during the Pilot Installation and our contractual obligations are typically negotiated with the local Viseum Certified Corporate Partner.
Establish initial project scope and what is the most suitable pilot installation.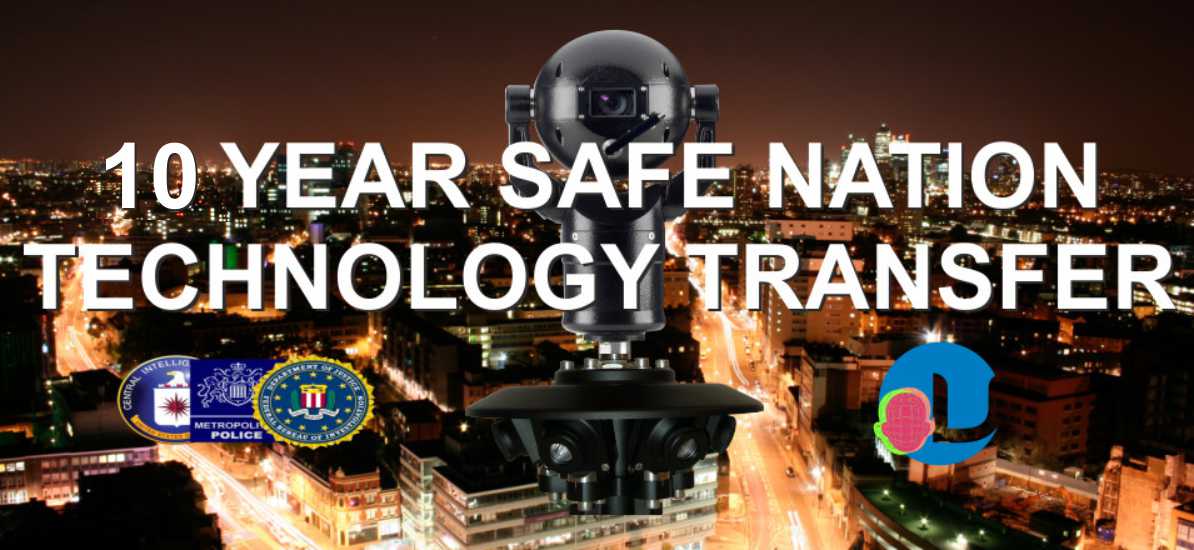 Viseum's success with its Phased Technology Introduction Programme is how well it meets the demand for high security. Examples range from how a community living and working in fear after several years of crime reduction initiatives, can now have their businesses and lifestyles regenerated, to how Viseum cameras can immediately eliminate the weakest areas of a Perimeter Surveillance which has constantly been breached in many different ways over many years. Secondly, the sale is about "how Viseum does it" with our technical capabilities, operational improvements, and short and long-term operational savings.
Viseum's advanced video surveillance techniques are setting the industry gold standard for Command Control centres, to deliver a stronger surveillance and security service. Viseum's international patents came from the solution for proactive and privacy-friendly mass surveillance, giving the capability of delivering many highly advanced automated CCTV technologies inside just one easily deployed plug-and-play CCTV camera. Having so much technology protecting our customers' communities and other high-value assets, means two benefits, 1) the customer gets the solution to their problems, and 2) the Viseum sales network multiplies. Demand comes from today's security climate and Viseum CCTV security projects multiply, because after crime moves to another area, then people talk about Viseum deployments being the most effective cause and solution to crime displacement.
Examples of Growth
Viseum technology wins high-end major security projects when compared to any other solution. These solutions are internationally patented and therefore have no direct competition. Viseum does not operate with anyone who worries about money before their security. HOWEVER, after we have made this absolutely clear at the start of any business relationship, we also present a compelling Business Case with substantial operational savings, whereby Viseum solutions pay for themselves within the first year of procurement.

The UK's Department for International Trade (DIT)  – Stuart Thompson Viseum UK Group Owner and President said: "Working with our Government's DIT and its vast international network, has accelerated more opportunities to make millions in tangible security projects in territories new to Viseum." Example – Viseum sales collateral available from our website presented to government leaders generates Safe City projects, and even a non-working model of the Viseum camera helps win pilot installations around $20m and eventually worth in excess of $80m and this is excluding ongoing revenues.
CCTV leasing – This is a download for a Windows PowerPoint presentation of just 1 commercial example worth over $170m in 3 years. (Important Note – If Windows PowerPoint file does not play – right-click the Windows file, go to file properties, then click "Unblock" security setting on the General tab.)
Certified Corporate Partner Selection
It is well proven for CCTV resellers to enjoy much more business with many more happy customers by working with Viseum. This is because of the significant added value that our solutions deliver to the customer and the resulting ongoing extra referral business. Viseum is always happy to support reseller applications and as part of your request the following information will be required:
What is your profile within your region and what industries are you strong in?
Are you in control of a security project that has a requirement for Viseum's Product Solutions, and/or are you prospecting for new and long-term business? Viseum supports new business prospecting with remote support, and will also support client visits with a Viseum representative anywhere in the world for qualified projects.
Do you have security installations and support services in place for digital CCTV security systems?
Do you have, or do you need training for TCP/IP (internet protocol) expertise in your team, or do you need Viseum training for this? This knowledge is essential for introducing Viseum solutions as plug-and-play, and for answering our customers' technical questions, after the budget holder passes Viseum over to their technical analysts for evaluation.
Viseum is supporting Intersec Dubai Viseum at Intersec Dubai Security Exhibition The sales impact of ...

Learn More »
Milipol Security Exhibition – Viseum Receives Excellent Results…  > Viseum Exhibition Support < As a ...

Learn More »
Fully Automated Face Recognition Camera from Viseum Viseum IMC™ (Intelligent Moving Camera) and AI ...

Learn More »
Careers for Elite Professionals
Viseum enjoys a unique way of growing this network. Many Viseum employees start out as either Viseum customers, agents or resellers. To expand our Sales Network further in all regions throughout the world we are employing more management teams, field and desk-based sales and support professionals.
This opportunity is only open to elite professionals and they will be remunerated with above-market rates. Applicants must study the Viseum website www.viseum.co.uk and then send an email to careers@viseum.co.uk presenting why they want to join our team of trusted professionals and what value they can bring to the Viseum UK Group.