Viseum® Uncooled Thermal CCTV Camera
Viseum IMC Overguard™ The greatest technical advantage against security threats. Automatically protect areas up to the size of New York City in complete darkness and all weather conditions. Up to THREE levels of automated threat detection and confirmation.
The only Thermal CCTV Camera to automatically detect multiple threats. In all directions at the same time. It operates completely automatically controlling a moving camera to confirm the threat and follow the required action. High-quality close-up video of the alarm, automatically reports incidents for rapid response and investigations.
Thermal CCTV Cameras for extreme long-range 360° surveillance
The world's only automated multi-view thermal and optical situational awareness surveillance system. The Viseum Panoramic Thermal IMC Security Camera delivers you:
Early warning system – no need for your perimeters to be physically breached for alarms.
Automatically detect multiple heat sources in every direction up to 360° at the same time. From 1 km out to 39 km.
Multitasking operation – perimeter security and circulation surveillance. Optical surveillance out to 5.5 km in complete darkness and integrates with radar.
This is an UNCOOLED thermal camera system – COOLED thermal cameras have extreme low life, high cost of purchase, long maintenance downtimes and restrictive export licensing.
Rapid Deployment Thermal Surveillance Camera – Immediate vast coverage
Each Viseum IMC has multiple thermal surveillance cameras built inside. Giving long-range panoramic coverage in any direction up to 360°. Contextual view cameras are put into each Viseum camera unit and directed at the zoned area:
9 contextual view cameras and 1 PTZ optical/thermal security camera for full 360° coverage – deployed on camera poles.
7 contextual view cameras and 1 PTZ optical/thermal security camera for 280° coverage – deployed on corners of buildings.
5 contextual view cameras and 1 PTZ optical/thermal security camera for 200° coverage – deployed on sides of buildings.
Uncooled Thermal Security Cameras – protect out to 39 km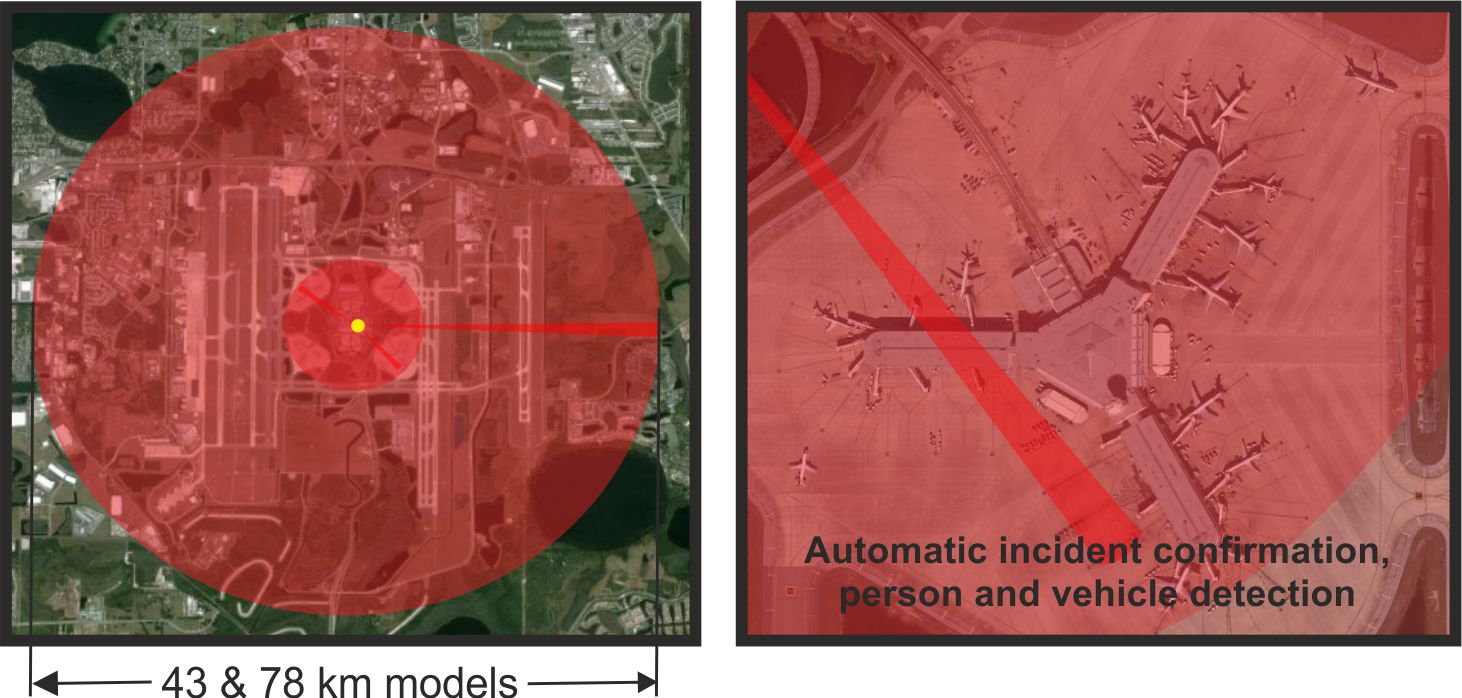 Example thermal system automatically protecting access up to 10 airport terminals with 250 aircraft gates.
Perimeter Surveillance Systems
This narrated presentation shows how it is impossible for anyone to identify a weak point of a perimeter that Viseum Thermal Surveillance Cameras are protecting.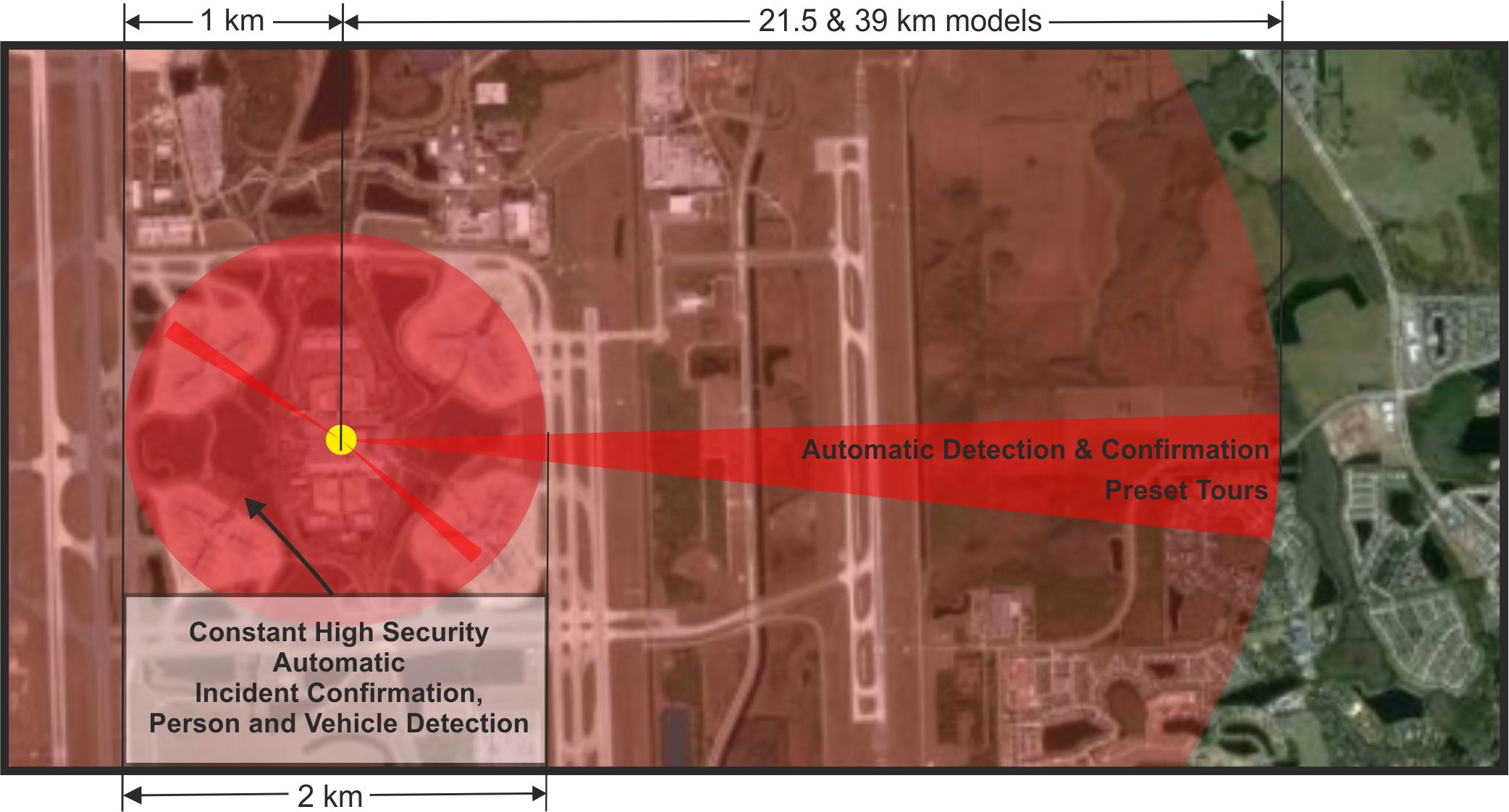 Example system automatically protecting approaches out to 39 km away.
Extended coverage customised for each project with distances up to 124 km
Low Light CCTV Detection Trees
Low Light CCTV Detection Perimeter
This presentation shows how Viseum has solved the many problems with using radar and thermal automated threat detection systems, by using automated visual verification such as Counter Drone Systems.
Thermal Surveillance CCTV Camera System – Deployment Options:
During our security consultancy with you and our CCTV design phases, the following questions and answers will provide us with the general information needed to be discussed and understood for you to begin enjoying your first Viseum CCTV Installations.
How do you want to deploy your long-range Thermal Camera?
How do you want to use your Thermal CCTV Camera?
React to incidents after they happen by using this long-range system as a standalone camera.
Have your security staff react to incidents before, during and after they happen by using this panoramic long-range camera integrated into a service for CCTV Monitoring.
Have your security alarms automatically verified and sent directly to your local services for Manned Guarding Security.
Do you want to benefit from other Viseum surveillance technology strengths?
What power requirements do you have to use the long-range Thermal Camera?
Mains power or do you have limited or no power at your remote site?
Irregular mains power and would benefit from an Uninterruptible Power Supply (UPS)?
Solar or other types of renewable energy and is your region hot? – Viseum Cooling System.
Downloads for Thermal Security Camera: