London's Met Police CCTV Deterrent – Viseum® Community SafetyWatch®
"This community CCTV scheme is very important to London, the United Kingdom and indeed the rest of the world." London Mayor's Office for Policing and Crime
Viseum UK's Safe City Community CCTV Schemes are gathering pace throughout the world. This is an example installation by London's Metropolitan Police. Within just a few days this community CCTV installation captured an incident of a type that usually goes unnoticed. This displayed a major deterrent and new policing capabilities to reduce crime. It also revealed how business and residential communities can save the typically high costs of insurance premiums, by being protected by Viseum Community SafetyWatch® Safe City CCTV schemes.
At night a car swerving erratically within the Viseum Safe City Community CCTV scheme was automatically noticed by the Viseum community security camera as a potential high-security risk. The car overturned ending belly-up with the driver climbing out of the passenger seat and running off. As this event unfolded the ONE community Viseum Panoramic Security Camera captured everything, even including the clear identification of witnesses and their vehicle number plates, but more importantly it captured all the high-quality close-up video evidence that was needed of the crime, and of many different areas of the Intelligent CCTV scheme.
Community CCTV Schemes Performance
As the driver initially ran off, the Viseum community CCTV camera automatically followed him running through the area to where he decided to make his getaway. He ran up an opposite road for a few hundred metres until he was almost out of sight, but amazingly he then turned around and ran all the way back, then climbed back into his car for a few seconds, appearing as if he had forgotten something, and then frantically made his getaway yet again running up another road but with the Viseum camera still automatically following him. Once again, he was almost out of sight but at this moment he slowed down and turned, back but this time walking slowly as if he was drunk, and seeming to be wondering if he should give himself up. Just before making his getaway again, he hid around a distant corner to see if anyone had turned up to deal with the crash. At this moment the Viseum camera automatically zoomed into him again capturing high-quality close-up identification of his face and clothing.
Community CCTV Investigations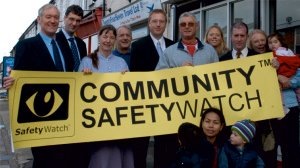 After local officials reviewed the video evidence of this event, including recordings of the driver casually walking away from the scene after having given excellent clear CCTV images of himself, they decided that he was probably the owner of the car and quite likely not going to own up to the offence, and might even be intending to commit insurance fraud. It was later revealed that this was, in fact, the case and during the course of this investigation, Viseum liaised with the Investigating Officers daily, to assist them in producing an evidential package for the Crown Prosecution Service, which enabled them to minimise the time taken by the court to have the owner admit to these incredible mistakes.
Community CCTV Insurance Premiums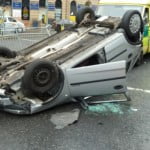 Viseum Safe City Community CCTV schemes are usually supported with just a few Viseum cameras, because they cover such large outdoor areas so effectively, which is the key factor in making these Safe City shared Intelligent CCTV schemes economically feasible. This CCTV scheme was no exception, with just one Viseum camera covering the whole area, operating completely automatically with no human intervention until the images were retrieved. Following this example, local police are deploying more Viseum cameras and this community is using the same example to justify cheaper insurance premiums with their insurance underwriters. We at Viseum are committed to maintaining this level of expertise in the field of Intelligent Community CCTV remote monitoring.
Safe City Community CCTV Example Installation

Viseum® Community SafetyWatch® Our Own Multi-Billion Dollar Protected Market Imagine being protected by a "virtual guard" where ...

Learn More »
Downloads for Community CCTV: