From short-range to long-range low light security and surveillance camera…
The CCTV and surveillance industry's low light standard deterrent and automated security and situational awareness
The Viseum 360 CCTV Camera has a patented multi-camera system to support environments that suffer from low light. Its low light wide contextual view and moving cameras and lenses with auto-zoom are designed to optimize the available ambient light. For ultra low light or where there is no light, the area covered by Viseum's low light surveillance camera can be illuminated using infrared or white light devices, and can be wireless and battery-powered if required.
Best Low Light Security Camera and Outdoor Surveillance Camera
Best Low Light Security Camera
This low light security camera uses Viseum's Central Intelligent Video Management System (CiVMS) and can operate standalone, and over a low bandwidth mobile 4G connection.
Best Low Light CCTV Analytics Software
One of our main technology strengths is our advanced low light security camera technology and our low light CCTV Video Content Analytics (VCA) software, called Viseum Intelligent Virtual Operator Software or Viseum iVOS CCTV monitoring software.  This provides low light outdoor CCTV security and key to this is the use of an advanced algorithm which continuously measures and adapts to constantly varying ambient light.  This is highly effective for low light security, when the naked eye finds it difficult to see.
The visual appearance of Viseum's Low Light Security Camera operating automatically protecting all surroundings, displays to would-be criminals that the entire site is constantly watched throughout the night by many surveillance experts. The examples that follow show how well activity is detected in such low lux conditions:
Example 1: Outdoor Surveillance Cameras -- Low Light CCTV
Our strength in automated open space surveillance is enhanced through a combination of superior camera hardware optics. A popular model of our PTZ Camera array has fixed contextual view cameras using starlight camera sensors. This example shows that although these fixed contextual view camera images look quite bright, the time stamp on the matching close-up PTZ camera image shows that these conditions were in fact on a November night under standard sodium street lighting.

Example 2: Outdoor Surveillance Cameras -- Low Light CCTV
This example shows similar activity detection as the previous example, but in even lower light and at a greater distance, which is why the PTZ Camera switched to monochrome.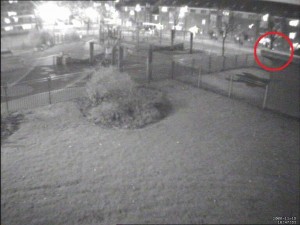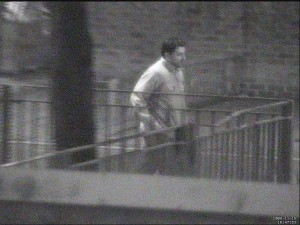 Example 3: Outdoor Surveillance Cameras -- Low Light CCTV
This identification evidence is from a field installation in London. The area on and around these public benches had been given priority surveillance by the Viseum outdoor surveillance camera system because the end user needed to clamp down on illegal street drinking in the area. The evidence provided was subsequently used to identify illegally imported beer and prosecute a local shopkeeper for supplying it. News of the success of this installation was broadcast in a TV interview.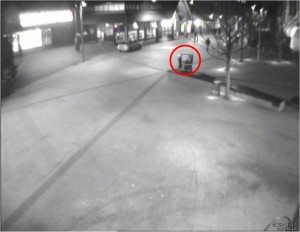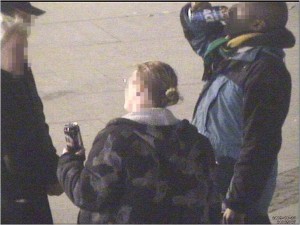 Outdoor Surveillance Cameras -- Low Light CCTV Camera Technical Requirements
In addition to the light sensitivity of the camera's sensor, the factor that limits the quality of low light outdoor surveillance cameras and their ability to record identification evidence in low light environments is the optical performance of the PTZ Camera. Effectively, the level of light required depends on the zoom levels needed. For installations with varied low lux challenges, we specify high-quality PTZ camera models with various optical zoom levels. For installations with zero lux, we specify suitable IR or white light illumination, or thermal cameras, for the site.
Broadcast Quality CCTV Fisheye Security Camera… Viseum Virtual IMC™ Fisheye CCTV Camera  Easily ...

Learn More »
Longest Range Uncooled Thermal Security Camera… The only Thermal Security Camera to automatically detect ...

Learn More »
Extreme Low Light Security Camera -- Thermal Surveillance