Best low light security and surveillance camera for short range to long range
The CCTV and surveillance industry's standard deterrent for automated security and situational awareness
The Viseum 360 CCTV Camera has a patented multi-camera system to support environments that suffer from low light. This uses wide contextual view cameras and a moving PTZ Camera with auto-zoom. These low light cameras optimize the available low light.
This low light camera is a multitasking camera with many video analytics systems operating together for several applications. Installed, maintained and supported as plug-and-play with modular hardware configuration. Meeting any remote site's security coverage and surveillance requirements. Solving the many problems with standalone security systems, manned surveillance services and manned guarding security patrols. It has been independently endorsed that to provide the same camera coverage as just 1 Viseum 360 Security Camera, it would take:
6 constantly manned next best PTZ cameras, or,
10 of the industry's latest panoramic megapixel cameras, or,
200 standard fixed camera installations.
This does not take into account the extreme costs of installation and monitoring. Viseum will deliver better results automatically, costing significantly less capex and 6 x less opex each year.
Best Low Light Security Camera and Outdoor Surveillance Camera
Best Low Light Security Camera
This low light security camera uses Viseum's Central Intelligent Video Management System (CiVMS) and can operate standalone, and over a low bandwidth mobile 4G connection.
Best Low Light CCTV Analytics Software
One of our main technology strengths is our advanced low light security cameras. These use low light Video Content Analytics (VCA) software, called Viseum Intelligent Virtual Operator Software (iVOS™). Viseum's low light outdoor CCTV security algorithms continuously measure and adapt to varying ambient light. Effective low light surveillance even if the human eye cannot see anything.
The Viseum's Low Light Security Camera operates automatically protecting everywhere at the same time. Criminals are deterred because they think the entire site is constantly watched. These examples show how activity is automatically detected in low light conditions:
Example 1: Low Light Security Camera for Outdoor Surveillance
Our superior low light cameras enhance wide-area AI surveillance. A popular model of our PTZ Camera has wide contextual view cameras using low light camera sensors. This example shows a wide contextual view camera and the matching close-up PTZ camera. These low light conditions were on a November night in standard sodium street lighting.

Example 2: Low Light Security Camera for Outdoor Surveillance
This example shows similar activity detection as the previous example, but in even lower light and at a greater distance, which is why the PTZ Camera switched to monochrome.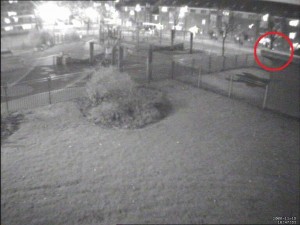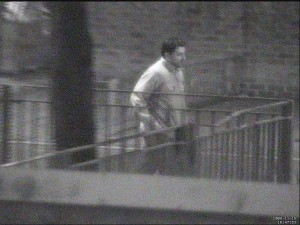 Example 3: Low Light Security Camera – Outdoor Surveillance
This identification evidence is from a field installation in London. The area on and around these public benches had been given priority by the Viseum outdoor surveillance camera system because the end user needed to clamp down on illegal street drinking in the area. These low light images were good enough to identify illegally imported beer. This was used to prosecute local shopkeepers. News of the success of this installation was broadcast in a TV interview.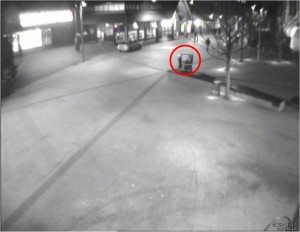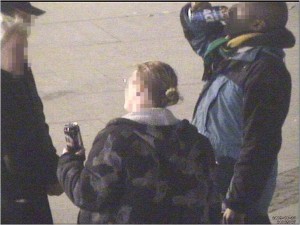 Outdoor Surveillance Cameras – Low Light CCTV Camera Technical Requirements
In addition to the light capability of the camera sensor. The quality of low light outdoor surveillance relies on the optical performance of the PTZ Camera lens. The light required for a quality image depends on the levels of zoom. For installations with varied low light, we specify the suitable high-quality PTZ camera with various optical zoom capabilities. For installations with zero light, we include suitable IR or white light illumination, or thermal cameras.
Broadcast Quality CCTV Fisheye Security Camera… Viseum Virtual IMC™ Fisheye CCTV Camera  Easily ...

Learn More »
Low Light CCTV Detection Trees
Low Light CCTV Detection Perimeter
For complete darkness where there is no lighting. The Viseum IMC automatically detects threats better than any other camera.