Viseum's Intelligent Video Analytics Software…
Viseum iVOS™ Intelligent Virtual Operator Software Technology Services
Our Video Analytics Software fully optimizes any network of CCTV cameras to automatically detect, confirm and follow people and vehicles from short-range to long-range, and at greater distances than any other Video Analytics Software.
Reliably analyse with 4 times greater accuracy than any other Video Analytics Software in real-world deployments.
Our Video Analytics Software uses the latest field-proven know-how, methods, and concepts. Our Video Content Analytics automatically detects scenarios using wide contextual view cameras, and also automatically controls a moving PTZ Camera to further analyse the detection, to confirm and follow the incident.
Automated Watchlists
Automatically create and grow your secure database of people, vehicles, and watchlists, from matching just a few hundred people and vehicles to recognizing many millions in near real time.
British CCTV Standards – Certified CCTV Accreditation… For consistent success throughout your entire security ...

Learn More »
Governments' Public Safety Held To Account… After terrorist attacks, vast amounts of extra money is ...

Learn More »
Viseum's Video Analytics Software uses the latest field-proven know-how, methods, and concepts. Our Video Content Analytics automatically detects scenarios using wide contextual view cameras, and also automatically controls a moving PTZ Camera to further analyse the detection, to confirm and follow the incident.
Unique Video Analytics Software AI Video Surveillance
Viseum introduced Video Analytics Software to the security and surveillance industry in the year 2000. Our International Patents are a testament to our development and support of video analysis technologies for longer than any other organisation in the world.
Our deep learning neural networks AI Video Analytics Software is called Intelligent Virtual Operator Software (Viseum iVOS). Our Video Analysis Software support infrastructure to deliver this security success has evolved over the longest period of time, to produce the most robust and highly effective routines turning innovation into practical Video Analytics Software Product Solutions.
iVOS Intelligent Video Analytics Software Technology Services
Automated Intelligent Multitasking CCTV Cameras
Video Analytics Software operating locally to the camera
and centrally with Viseum's Central Intelligent Video Management System.

Intelligent Video Analytics Software | Intelligent Virtual Operator Software
The CCTV and surveillance industry-standard deterrent and automated security and situational awareness
Our video analytics software provides line-of-sight CCTV surveillance. Working completely standalone for secure management via the Internet, or integrated with remote CCTV monitoring command and control,  Viseum Panoramic Security Camera's are proven to provide at least 25 times more court-quality evidence than any other camera solution, by giving greater coverage than multiple fixed camera installations and better performance than intermittently manned PTZ moving cameras.
Standard Viseum iVOS Video Analytics Software
By automatically learning its environments, and ignoring rain and other movements such as trees and bushes blowing in the wind, the Intelligent Virtual Operator Software permits effective monitoring night and day in all types of weather (subject to available ambient or artificial light).
Incident detection and behavioural recognition capabilities are based on the study of objects in real-time environments, to meet specific salient surveillance requirements for populated and unpopulated open areas that generate random crimes. It measures and compares various parameters relating to the basic laws of physics, such as size, shape, time, speed, and location, and then applies decision rules based on local knowledge of the environment to recognize particular types of activity in particular areas.

Intelligent Security Video Analytics Software Automated Detection/Reaction
To achieve its excellent day and night detection performance and the quality of evidence required, Viseum Video Analytics Software uses fixed wide-angle contextual view cameras to the highest specification available for each remote site. These cameras are more sensitive than a human eye in low-light conditions, and combined with its disciplined automation in maintaining vigilance, our advanced Video Analytics Software is well-proven to detect activity in larger and more distant areas more effectively than a human eye.
Matching the performance of its detection system, its fully automated reaction system uses the industry's highest specification PTZ Cameras to automatically confirm incidents, and to maintain greater accuracy at distance providing consistent high-quality close-up evidence.
Video Analytics Software Target Selection
Developed through listening and watching many UK CCTV operators, by default our analytics software uses a points system to select targets based on where they are and what they are doing. This means that if there are several activities meeting the same surveillance profile, the system will target the activity with the most points.
Where multiple events occur simultaneously, it can be instructed to switch the PTZ Camera between events using this points system and the activities' locations. This allows close-up evidence to be captured of everything and has the added benefit of preventing diversion tactics.
Video Analytics Software PTZ Camera Optical Zoom Control
Another key functionality of Viseum's Intelligent Virtual Operator Software is its ability to automatically meet UK Home Office Guidelines for zoom levels required for court evidence. The method of selecting the appropriate zoom level is easily adjusted to meet local operational policies or individual user requirements.
Manual PTZ Camera Control
Integrated into command control legacy systems, or using Viseum's Graphical User Interface (GUI), the PTZ Camera can be manually moved at any time. For rapid manned response, Viseum's advanced 'Point & Go' functionality can be used to have the PTZ Camera go to wherever needed with just one click of the screen.
Video Analytics Software Proactive Alarm Options
User-specified analytics triggers are set by Viseum's Remote Managed Support Service to proactively alert manned response units using the following mobile phone-based options:
Audio and/or video alarm.
SMS text.
Images of the alarm sent via MMS.

Video Analytics Software Surveillance Profiles Scheduling
As part of our Video Analytics Software libraries, standard surveillance profiles are available to fit the majority of real-life environments, and new profiles are produced for customised applications by our Remote Managed Support (RMS) services, who are on-hand to help ensure the surveillance profiles are optimized for each area under observation.
These profiles are easily selected from a drop-down menu and any number of different profiles for any number of specific areas can be set for different times of the day over a seven day period.
Local Knowledge Crime Hotspot Management
Any numbers of areas are easily given 1 of 3 levels of priority. For example, activities in certain areas can be given relevant priority:
Criminal damage – catch people in the act and see where they come from and go to.
Focal points for illegal activities – catch close-up evidence of offenders and evidence of their crime.
ATM machines – catch and alarm people getting robbed and PIN skimming devices being attached.
Drug dealing – focus on regular meeting points and catch transactions.
iVOS Graphical User Interface (GUI) for Better Performance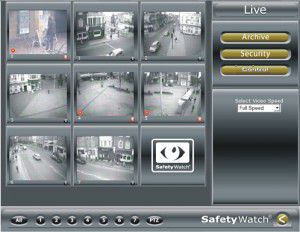 To benefit from Viseum's secure on-line remote camera control or post-event video retrieval, all that is needed to get started is familiarity with browsing the Internet.
This browser-based GUI was developed by listening to end-user needs so it's very familiar and easy to use. All that is needed to securely access Viseum's GUI is a PC or laptop, using any operating system with any web browser software.
Multiple Modes of Operation for Greater Flexibility
Passive: Fully automated scouting for long-term deterrent and post-event video analysis.
Reactive: Automated scouting to trigger alarms for better manned response.
Manual override: IP web browser interface to use any device.
Standard IP Graphical User Interface
HTTPS standard access for highest security encryption.
Remote or local secure access from any fixed or mobile IP communications.
Remote commissioning.
Supports home and mobile working.
User Administration
Easy and secure single or group user access and permission management:
User profiles: Each user or group can be given different permissions to administer and use the Viseum system.
Adaptive GUI: The Viseum GUI automatically adapts its presentation to match the user's profile.
Track user activity: Comprehensive audit trail with user activity logs.
Advanced NVR Surveillance Software
Our advanced Video Analytics Software also provides unrivalled video recording for its surveillance camera solutions. Viseum's auto-intelligent recording software runs directly with the Viseum iVOS software inside the range of Viseum's iVOS NVR Camera Controller products.
Optimized to be used remotely via entry-level wireless or wired TCP/IP broadband services, using any web browser. Viseum's camera controllers use industry-leading UK Home Office compliant evidence authentication, audit trail, and communications security features to ensure the integrity of the evidence gathered supported by our software.
Court-quality evidence -- JPG frames are time-stamped and watermarked and can be encrypted for authentication.
Synchronised extended dual evidence recordings -- close-up recordings from the PTZ Camera are matched to the wide contextual view recordings.
Archived video interrogation optimized for rapid remote post-incident investigations:
Optimized internet video streaming (latest secure YouTube techniques).
Colour coded event thumbnail presentation.
Activity overview graphs.
One-touch event navigation.
Bookmarks – for rapid event reference.
With our Video Analytics Software, recordings are downloadable in user-selectable video player formats, and at various qualities, to match available investigation time: e.g. from rapid, low-quality images for local intelligence, up to the highest quality court evidence.
Windows Media Player or SMPlayer.
Viseum's Multi-View Player -- play all camera views at the same time to investigate the event and what else happened around it.
Advanced encryption privacy -- option for images to never be viewed by any unauthorised persons.
(The Advanced NVR Software is sold optionally with the Viseum iVOS Video Analytics Software.)
iVOS Advanced Intelligent Video Analytics Software Technology Customisation Services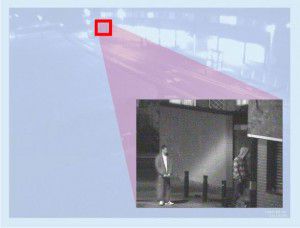 Viseum CCTV Intelligent Video Analysis Software can be further enhanced with value-added features and functionality:
Advanced features of the Viseum iVOS Video Analytics Software:
Scenario-based surveillance profiles.
High-density pedestrian saliency.
Person classification for intruder alerts.
Face Recognition watchlist alerts.
Colour profile suspect recognition.
People counting.
Sound recognition.
Advanced NVR Software:
Smart searching (Viseum iVOS F3).
One-touch burn to DVD.
Emergency seize of local hard drive data to USB memory device.
Enhanced Command Control Integration – Touch Screen Functionality:
PTZ Camera 'point & track' or 'point & go'.
Local knowledge crime hotspot management.
Optimized human/machine interplay with target selection.
Operational database management for privacy issues and KPIs.
The Viseum iVOS monitoring software operating system is based on our highly robust propriety Software Platform. This software package is available to support the many different hardware architectures available today. This makes hardware procurement both easier and encourages the integration of the Viseum IMC technology with a greater number of third-party products.
Hardware Manufacture and Quality Control Management
The Viseum Intelligent Video Analytics Software system is future-proofed by providing single pixel definition from its fixed cameras and matching PTZ Camera control accuracy. As camera hardware technologies improve, the Viseum system's detection and intelligence gathering range and performance will increase with them.
To ensure quality control and legal production of any product using our Video Analytics Software, an advanced licensing encryption system is implemented during the build process of any system using Viseum VCA software, using a variety of hardware certification processes.
Hardware Maintenance
Immediate or potential hardware problems are dealt with as they occur using Viseum's remote managed support (RMS) software watchdog and self-repair services. For ease and efficiency of maintenance, the unique local application configuration and certification is securely backed up on the iVOS Camera Controller's compact flash card.
Third-Party Product Integration
The built-in Viseum protocol analyzer enables integration with any command control equipment using major brand PTZ Camera protocols to enhance the performance of any control room operations. Using the Viseum SDK and API, third-party products can be integrated with and benefit from enhanced Viseum VCA software functionality.
Customisation Developments on Request
The Viseum GUI is very popular and familiar. A selection of other GUIs can be used or a customer GUI can be produced. Any PTZ Camera protocols can be supported following quality control and patent licensing.
GIS CCTV and Security Surveillance System Situational Awareness People Surveillance
This narrated example shows how the correct situational awareness can automatically avoid the most mundane and the most complex security risks.
Viseum Intelligent Video Analytics Software
This presentation shows how Viseum is leading the physical security industry, with the most advanced and constantly evolving surveillance technology.
Downloads for Video Analytics Software: