Viseum® Airport CCTV Surveillance
Viseum Airport F3™ (Find, Fix, and Follow) Software Technology Services
Viseum's Airport Surveillance Systems fully optimize any network of cameras to automatically detect, recognize and follow people from short-range to long-range, and at greater distances than any other Airport Security System.
Reliably detect with 4 times greater accuracy than any other Airport Surveillance System in real-world deployments.
Automatically create and grow your secure database of people, vehicles and watchlists. From matching and following just a few hundred people and vehicles to recognizing many millions in near real-time.
Border Control and Border Security - Viseum Global F3 National and International Security
This near 2-minute video is recommended to play in full-screen on a large display. There is no voice narration because explaining the many security systems and technologies all working together over-complicates the presentation.
Viseum Airport Surveillance Systems are the only Airport Surveillance to automatically detect multiple incidents from short-range to long-range in all directions at the same time. Viseum's Airport Surveillance and Security Systems operate completely automatically to follow suspects and confirm incidents. With high-quality close-up video evidence of even before the alarm is raised, its Airport Security Systems automatically report incidents for rapid response and investigations.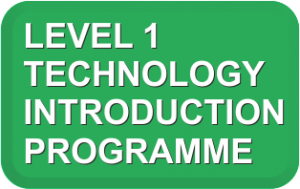 The appearance of Viseum's Intelligent Airport Surveillance Cameras protecting the airport. This deters criminals because they think the entire airport surveillance system is constantly watched.
Viseum's Intelligent Airport Surveillance Camera for Heightened Airport Security
Viseum UK provides the most effective Airport Security Systems for Airport CCTV Security. Covering both Perimeter Surveillance and all movement within areas of an airport. This optimized Airport Security uses the Viseum Intelligent Panoramic Security Camera which contains multiple cameras built inside a single unit to provide complete panoramic coverage in any direction up to 360°. Each Viseum camera in an airport is fitted with the required number of Wide Contextual View Surveillance Cameras. This is for covering the designated zone areas.
Viseum optimized configuration examples of Airport Surveillance for Airport Security:
6 Wide Contextual View Cameras and 1 PTZ Camera for full 360° coverage. Deployed onto airport security CCTV camera columns.
5 Wide Contextual View Cameras and 1 PTZ Camera for 300° coverage. Deployed onto corners of buildings, or airport security lighting columns.
3 Wide Contextual View Cameras and 1 PTZ Camera 180° coverage. Deployed onto the side of airport buildings.
Example Airport Security Systems:

Airport Security Camera Systems Protecting 3 Airport terminals and 50 Aircraft Gates.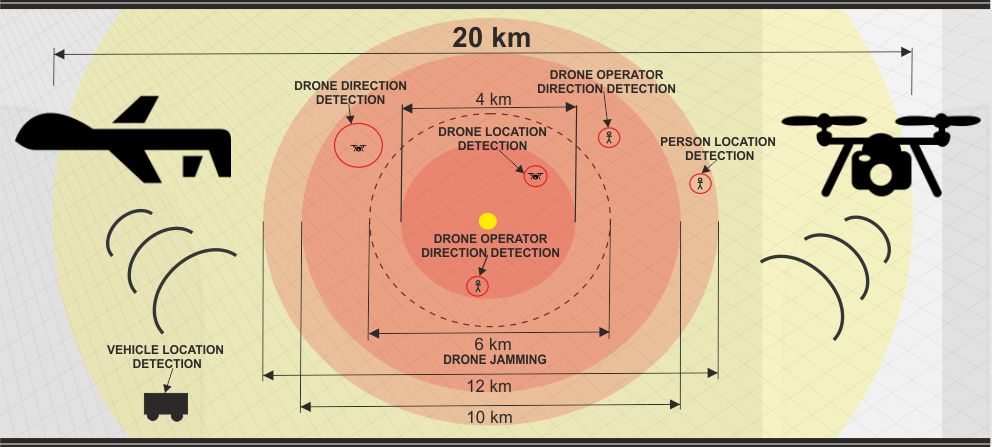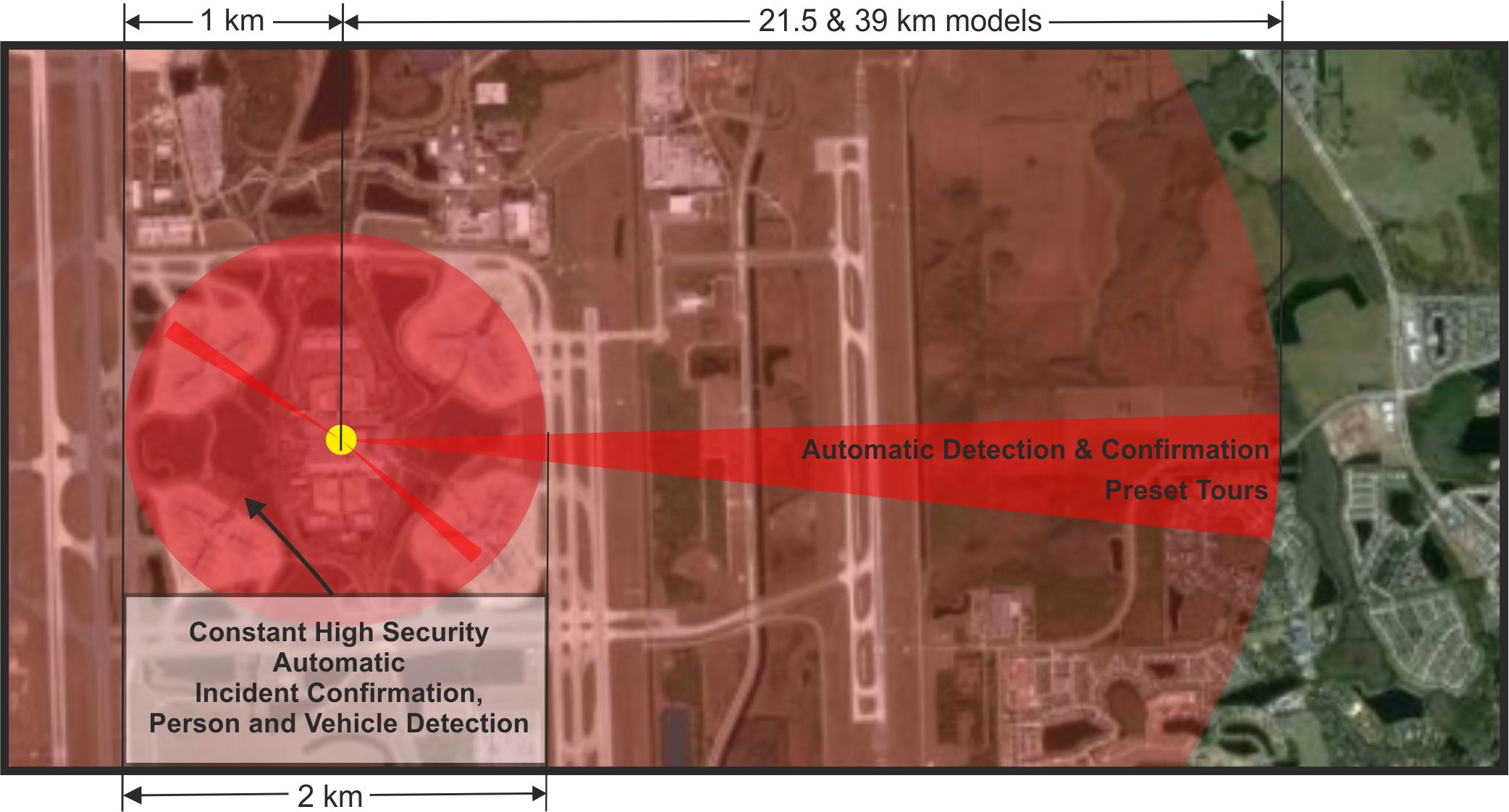 Airport CCTV Extended Thermal surveillance system coverage is customised for each project with distances out to 62 km.
Viseum iVOS – Intelligent Virtual Operator Software
For better use of Airport Security and Surveillance personnel and to reduce the need to train security staff for routine monitoring tasks, Viseum's iVOS Software Technology Services monitor each and every camera installed on the network. Upon activation, with the software already analyzing an incident, it automatically controls the PTZ Camera to follow, confirm, record and report incidents. The software also performs key but mundane tasks, such as:
What airport activity to monitor.
When to monitor for particular airport incidents.
Where to monitor for particular airport incidents.
What responses should follow particular airport incidents.
Airport Security and Surveillance Threat Management Systems
If potential intruders approach the airport perimeter fence line up to 320 m away, or if they breach the airport perimeter fence, the Viseum PTZ Camera is automatically controlled to zoom into and follow them. Close-up video images are then automatically displayed on surveillance monitors for security response. When the airport's perimeter intrusion detection system (PIDS) is penetrated, Viseum's iVOS F3 (Find, Fix and Follow) Software Technology Services will automatically track the intruders where they breach and circulate inside the perimeter. This software will also track the intruders through the airport terminal buildings using the airport's internal cameras. This will track them when they move from the view of one camera to another. It will re-identify them if they temporarily disappear from view and then reappear on other cameras.
If there is more than one intruder within the coverage of a single Viseum IMC camera installation, the Viseum software will track all of them and control the PTZ Camera to automatically zoom into, follow and switch between all intruders to a) confirm their sightings, and b) record close-up video images of them. Throughout the incident, the intruders' locations and close-up video images are automatically reported for security response. If suspects enter certain areas, or if security personnel do not follow correct procedures, the Viseum system will automatically notify the Head of Security. This can start escalation procedures.
Once the incident has finished, CCTV evidence is used for rapid investigation. Images of intruders are fed into Viseum software systems to automatically track their movements. From the lead up to the breach to the end of it. Including attempts to evade capture within crowds of people. Viseum's face recognition software is then used to automatically investigate if the intruders had visited the site before to plan their crime.
Airport Security Baggage System
Our approach for airport security baggage is to visually follow the traveller and visually follow the traveller's baggage. When it is with the traveller and when it leaves the traveller for the aircraft's baggage hold. This tracking uses visual biometrics and cross-checks references with other control devices. It allows the traveller, the traveller's location and the traveller's baggage to be automatically reacquainted at the final destination.
This solves many airport security baggage problems. Including preventing a traveller's baggage from being collected by the wrong person. Or tampered with. For example, terrorism, mistakes or theft.
Downloads for Airport CCTV Security Surveillance:
Important Note – If Windows PowerPoint file does not play, right-click the Windows file, go to file properties, then click "Unblock" security setting on the General tab.

Perimeter Surveillance Systems
This narrated presentation shows how it is impossible for anyone to identify a weak point of a perimeter that Viseum Thermal and/or Optical Surveillance Cameras are protecting.