Fully automated Face Recognition Camera from Viseum®
Captures 100 x more faces. Over 25 x more usable video. Clears up over 15 x more incidents. Viseum IMC™ Intelligent Moving Camera and Viseum FaceRec™. AI Facial Recognition Software Technology Services:
Automatically detect and recognize faces. From short range to long range at greater distance than any other camera.
Reliable face matching with 4 times greater accuracy than any other face recognition camera in real-world deployments.
Automatically create and grow your secure database of faces and watchlists. From matching just a few hundred faces to recognizing many millions in real-time.
Patented step change in CCTV surveillance

privacy

Stronger CCTV security, deeper surveillance and investigations. But ...

Learn More »

Face matching and facial recognition camera
"There are virtually unlimited citywide security and surveillance applications when trained to use Viseum F3 cross-checking software operating with Viseum FaceRec." (Viseum UK Group President)
Our automated 360° Face Recognition Cameras deliver the world's greatest weapon against crime and terror. Viseum's iVOS Facial Recognition Software uses artificial intelligence with the largest library of face recognition algorithms. Giving the most accurate performance and reliability to capture and match the most faces for each camera installation.
The face recognition industry-standard deterrent and fully automated security and surveillance
Viseum® face recognition camera is multitasking with many video analytics systems operating together for several applications. Installed, maintained and supported as plug-and-play with modular hardware configuration. For any remote site's security coverage and surveillance requirements. Solving the many problems with standalone security systems, manned surveillance services and manned guarding security patrols. It has been independently endorsed that to provide the same coverage as just 1 Viseum 360 Security Camera, it would take:
6 constantly manned next best PTZ cameras, or,
10 of the industry's latest panoramic megapixel cameras, or,
200 standard fixed camera installations.
This does not take into account the extreme costs of installation and monitoring of inferior products. Viseum delivers better results automatically, costing significantly less capex and 6 x less opex each year.
Face Recognition Technology – System Architecture
Viseum's Facial Recognition Cameras use the Viseum iVOS FaceRec face detection, face identification and face recognition. Also, re-identification and indexing facial recognition systems. Our face recognition software uses centralised and de-centralised singular or multiple database architectures. To support a virtually unlimited number of registered faces. Our library of matching face recognition algorithms uses face inputs for system enrolment. This uses all types of video surveillance cameras. The face enrolment system supports data export and import for enrolment. Faces are compared to registered people. Situational awareness alarms are sent when face matching detects risk.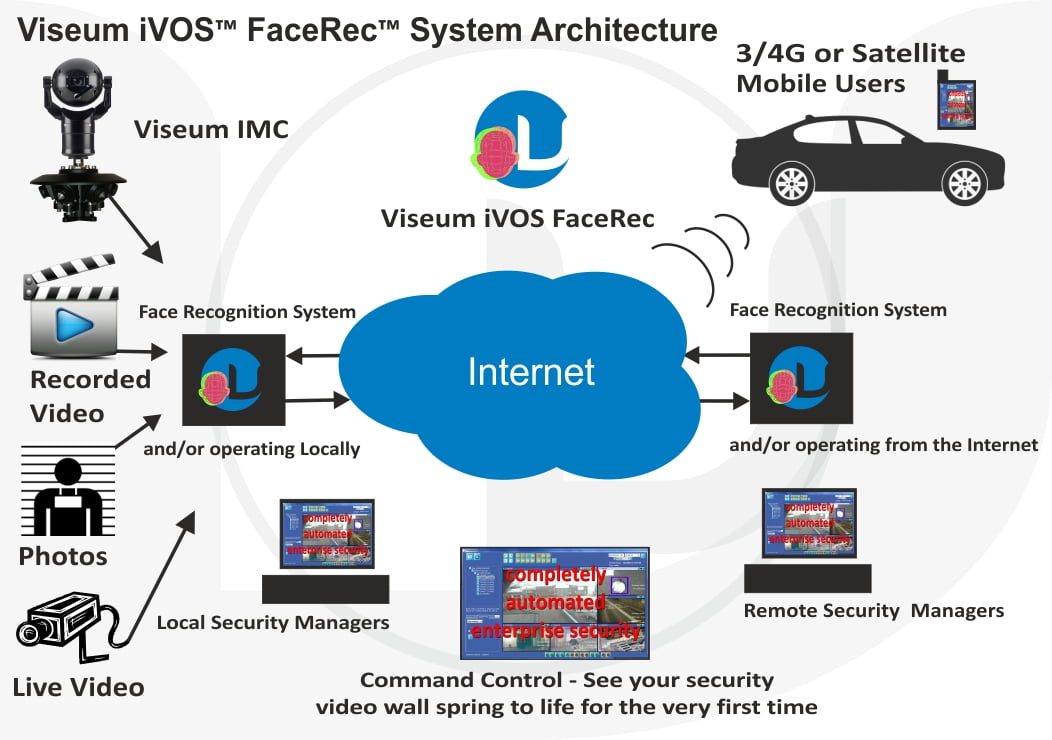 Face Recognition Camera & Software using Social Media Investigations - Anti-Terror CCTV Training
Border Control and Border Security - Viseum Global F3 National and International Security
At border crossings, legitimate travellers can fail face recognition but pass interviews. If criminals pass all other security checks, Viseum can automatically recognize faces of high-risk suspects.
Citywide to nationwide RFP (request for proposal) project support. Safe Cities from Viseum® The ...

Learn More »
Face Recognition Software
Automated Intelligent Multitasking CCTV Cameras
Downloads for Viseum Face Recognition Camera: