Advanced Surveillance Technology from Viseum® 
Viseum iVOS F3™ – Automatically find, fix onto, and follow people. Know where they are, where they have been, where they are going and who they have been with. Our Intelligent Virtual Operator Software Technology Services is the world's gold standard surveillance technology.
Patented step change in CCTV surveillance privacy Stronger CCTV security, deeper surveillance and investigations. But ...

Learn More »
Viseum UK are advanced video surveillance technology experts. We are intelligent CCTV monitoring specialists and international patent innovators. Well-known at the forefront of the security industry for introducing advanced surveillance technology as trusted plug-and-play solutions. Viseum customers deliver the most effective future-proof surveillance service. Whatever the camera hardware. From standard cameras, extreme low-light Thermal Cameras, and counter drone Systems, to extreme long-range surveillance cameras with radar detection.
Viseum IMC™ (Intelligent Moving Camera) Advanced Surveillance Technology
The Viseum IMC 360 Security Camera is our flagship product. The Viseum brand is recognized for its multiple-cameras. Patented internationally. Any non-Viseum branded camera that looks like this, will be noticeably inferior. It is an illegal copy in breach of international law.
It has transformed the CCTV industry's moving cameras. From being reactive infrastructure-dependent PTZ Camera installations, to proactive independent security assets. The Viseum IMC protects some of the most important people and assets throughout the world. It delivers the largest effective coverage and successfully addresses each remote site's security requirements. Automatically watching everything in all directions at the same time.
The Viseum IMC has a modular setup with 1 to 6 wide contextual view camera modules. It can easily meet any remote site's surveillance coverage requirements. Each of these cameras is easily positioned to cover the required areas. From a large targeted area of 60° up to a vast area covering a complete 360°.
AI Facial Recognition Software from Viseum® "Viseum's facial recognition system has become essential for ...

Learn More »
Fully automated Face Recognition Camera from Viseum® Captures 100 x more faces. Over ...

Learn More »
Face Recognition Camera & Software using Social Media Investigations - Anti-Terror CCTV Training
Border Control and Border Security - Viseum Global F3 National and International Security
These near 2-minute videos are recommended to play in full-screen on a large display. There is no voice narration. Explaining the many security systems and technologies all working together overcomplicates the presentation.
Completely Automated All-Round Surveillance
Viseum camera installations automatically detect and report incidents and situational awareness. Automatically moving the PTZ Camera to zoom into and follow it. Providing recorded video evidence and information for security staff to react.
CCTV Deterrent
The return on investment for any camera is its value as a deterrent. The Viseum's IMC has many publicised successes and public body endorsements. The significant effect on crime clear-up rates. Its appearance as being constantly manned. Viseum's camera is over 6 times more valuable than any other camera.
This is how Viseum Product Solutions make remote CCTV monitoring of surveillance camera installations a highly efficient option. And not just a necessary cost.
The Central Intelligent Video Management System is another first of its kind. No more compatibility problems between the many different complex software systems used in conventional central command control. No need for cross-company collaboration for in-life maintenance, support, and training.
The CiMVS is a complete, all-in-one, harmonised turnkey security enterprise. Optimizing complex systems, emergency processes and routine crime reduction initiatives. Using advanced Video Analytics Software, dedicated virtual operators constantly monitor and record each camera for surveillance requirements 24/7/365. Video intelligence is automatically passed to security staff for rapid response.
Viseum iVOS™ (Intelligent Virtual Operator Software)
Uses technology to detect, identify and re-identify people as they pass through populated environments. Enabling suspects to be investigated or apprehended. People can be automatically followed in live incidents. Or in rapid investigations. Suspects can be found no matter where they go or what they do.
Independently proven to be the world's greatest security weapon against crime and terrorism. The Viseum face recognition system has overcome the many problems of cameras with different aspect ratios. Used for enrolment and recognition, and storage device compatibility. Now, any camera and any recording device can be used with our face recognition software. Preventing or clearing up crime and terrorism.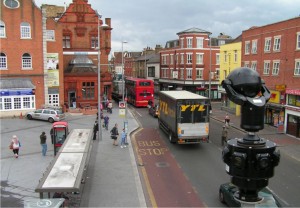 Viseum UK's traffic management expertise and Viseum ANPR (Automatic Number Plate Recognition) have again overcome problems. Usually, specialist ANPR cameras are needed. Now non-ANPR cameras can be used to detect and recognize vehicle number plates with greater accuracy.
Another main strength of Viseum's Traffic Management Software and ANPR, is what it is used for. It already integrates with many security and business-related systems. Our strong software capabilities allow us to integrate it to meet all customer needs. People and vehicles are automatically checked against red, black, and green lists. To be automatically followed. For example, a VIP or a suspect can be followed through a city. Live reports of incidents and events are sent to security staff as either alarms or situational awareness.
An example of many Viseum systems working together with many other systems is highways. Traffic flow, traffic violations and vehicle accidents are automatically detected and managed together.