Advanced Surveillance Technology…
Delivered as Trusted Plug-and-Play CCTV Solutions for nations to remain ahead of crime and terror 
Viseum UK are advanced surveillance technology experts, intelligent CCTV monitoring specialists and international patent innovators. We are well known at the forefront of the security industry for introducing advanced surveillance technology as trusted plug-and-play solutions. With national security paramount, our customers can deliver the most effective future-proof surveillance service available today, whatever the camera hardware – from extreme low-light and thermal cameras, to extreme long-range HD optical surveillance cameras with radar detection.
Tag and Track – Viseum iVOS F3 Intelligent CCTV People Surveillance and Tracking… Viseum iVOS F3 ...

Learn More »
Best Face Recognition Software… "Viseum's National Security Face Recognition Software will be as essential for daily life, ...

Learn More »
Viseum IMC CCTV – Advanced Surveillance Technology
The Viseum Intelligent Moving Camera – or Viseum IMC – is our flagship product and for which the Viseum brand is best recognised. Patented internationally, no other camera looks or operates this way with its integrated fixed and moving cameras.
It has transformed the industry's PTZ camera, from being reactive infrastructure-dependent installations, to become true proactive independent security assets. The Viseum IMC protects some of the most important people and assets throughout the world, delivering the largest effective coverage, and successfully addressing each remote site's specific security requirements. It does this by automatically watching everything in all directions at the same time.
The Viseum IMC has a modular setup with 1 to 6 fixed contextual view camera modules, so it can easily meet any remote site's surveillance coverage requirements. Each of these cameras is easily positioned to cover required areas, from a large targeted area of 60° right through to a vast area covering a complete 360°.
Completely Automated All-Round CCTV Surveillance
What makes each Viseum camera installation so valuable, as a first line of defence, against any attack or security risk, is its ability to not only detect and report an incident, or situation, but to automatically move the PTZ Camera to zoom into, and follow it, to provide recorded evidence, as well as crucial information needed, for security staff to react in the most effective way.
CCTV Surveillance Deterrent
The most important return on investment for any surveillance camera is its value as a deterrent. The publicised successes of Viseum's IMC, together with the many public body endorsements received, the significant effect on crime clear-up rates, as well as its visual appearance as being constantly manned, have shown the Viseum camera to be at least 5 times more valuable than any other camera.
This is why Viseum product solutions make the remote monitoring of surveillance camera installations a highly efficient option rather than a necessary cost.
Viseum's Central Intelligent Video Management System is another first of its kind. Compatibility problems between the many different complex software systems used in conventional central command control have simply vanished. The cross-company collaboration, for in-life maintenance support, and technical training of security staff, is also no longer a problem.
The Viseum Central Intelligent Video Management System is a complete, all-in-one, harmonised turnkey security enterprise, optimising complex systems, emergency processes and routine crime reduction initiatives. Using advanced Video Analytics Software, dedicated virtual operators constantly monitor and record each camera for specific surveillance technology requirements 24/7/365, and the crucial video intelligence is automatically handed over to security staff for the most effective response.
Viseum UK's intelligent Virtual Operator Software (iVOS) Monitoring surveillance technology identifies and re-identifies people as they pass through any populated environment, enabling them to be easily investigated or apprehended. People can be automatically followed in real time during a live incident, or after it, through recorded evidence, no matter where they go or what they do.
Independently proven to be the world's greatest security weapon against crime and terrorism, the Viseum face recognition system has overcome the many problems with camera-to-camera and storage device compatibility. Now, any camera and any recording device can be used with our face recognition software to prevent or clear up crime and terrorism.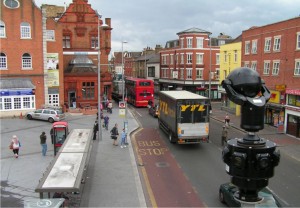 Viseum UK's Automatic Number Plate Recognition expertise – or Viseum ANPR – has again overcome the main issue with this technology. Usually, specific ANPR cameras are needed, but now non-ANPR-specific, analogue and digital cameras can be used to detect and recognise vehicle number plates with greater confidence.
Another main strength of Viseum ANPR is what it is used for: it already integrates with many security and business-related systems and our strong software capabilities and resource allow us to integrate it so it can meet all client needs. People and vehicles are automatically checked against red, black and green lists, so they can then be followed. For example, a VIP or a suspect can be followed through a city, and live reports of incidents and events are sent to the relevant security staff as either alarms or simply as situation awareness.
An example of many Viseum systems all working together in harmony with many other digital systems, is highway safety and security where traffic flow, road contraventions and vehicle accidents can all be automatically detected and managed together in the most efficient way.
Intelligent CCTV Surveillance Technology