Viseum: Automated Security and Situational Awareness for Complex and Challenging Environments
Product and Software Demonstration and Evaluation
Viseum represents the world's best technology capability that the electronics security market has to offer. During the security design phase, or when reviewing an existing security enterprise it is important for the customer to understand the in-life savings made by investing in this technology, through its security improvements and reduction in overhead costs.
Viseum is a Force Multiplying solution that provides continuous surveillance and monitoring without having to rely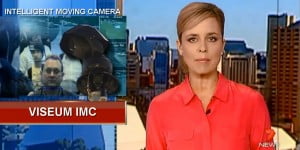 upon operators and the human factor, so that the customer's asset is permanently monitored and therefore protected.  Moreover, Viseum solutions enable customers to make a more efficient use of resources so that the concentration of a security force is targeted to critical areas and events as they occur.
Viseum Intelligent CCTV solutions sell themselves once they are demonstrated live operating automatically. The crucial time for selling Viseum's intelligent CCTV camera systems is at the start of the CCTV Design stage of an identified security project. It is important to demonstrate how Viseum solutions operate, to show how the customers can improve their security services, and make operational savings to increase their return on investment. Demonstrations of Viseum solutions will show the customer the technical performance and reliability of Viseum's powerful camera products and analytic software systems and how they can be customized to meet each customer's individual security requirements.
Through the many threat assessments that the Viseum Red Team Service  (your security system's penetration testing) has processed globally, it is clear that failure to invest in the best available defence measures from the outset leaves high-value assets vulnerable and at a significantly increased risk from both conventional and asymmetric threats. Viseum CCTV designs remain at the vanguard of these measures and are the only solution that provides the additional rigour, ring of steel and force protection measures to secure any of a customer's assets.
Once a security project has been identified with available budget and Viseum's sales procedure is followed, the Viseum Certified Corporate Partner will always win the sale and will be involved with Viseum to produce the security projects CCTV design. Due to the level of resource needed it is commercially impractical to influence a sale with Viseum product after the CCTV system design has already been completed and the project's budget has already been set.
Viseum CCTV designs provide the easiest and most secure CCTV hardware and software to use and benefit from each remote sites security requirements. This enables the customers to deliver a much stronger security service using much fewer resources than any other CCTV design. It will always successfully deliver stronger security based on the customers varying available resources.
> Download Presentation of Viseum's CCTV Designs <
Meetings and Demonstrations
Our first main objective is to encourage the customer to ask Viseum to design their first Viseum security project. When the customer verbally accepts this budgetary design, we can then make a judgment on whether attending a meeting and/or demonstration with the customer is needed to win the sale. On many occasions, Viseum's reputation mitigates the need for a meeting or demonstration, before going ahead with a project.  However, a local Viseum Certified Partner (Agent or Reseller) can be used for this during any part of this process.
It is usually more economical for the customer to then procure their pilot installation as opposed to first have a basic demonstration. This is because demonstrations of value to the customer must be customized to solve their specific problems. A formal test can be included in the first phase of project delivery and once the agreed test criteria are met, this triggers further payment of the first order. Costs for this test can be reimbursed for the first project's final account additions and omissions.
Availability of our Demonstration Equipment is 6 weeks from date of confirmed order.  Availability of further advanced demonstrations outside of our Phased CCTV Technology Introduction Programme will be 2 – 3 months.
On occasions, we will invest in meetings and demonstrations but only on further scrutiny. For example, if a sizable order has been well qualified and sufficient commitment from the customer or local partner has been obtained e.g. a confirmed purchase of 50 to 100 units following formal site acceptance test.
Sales demonstration and evaluation options
Our website demonstration section and reseller downloads section provide many videos that will start the sales process. Following this, demonstrations are provided using any of these options:
Delivering a Viseum intelligent CCTV Trailer to a customer's point of interest. This offers the greatest sales impact where the buyer sees that they can finally have a CCTV Design where the camera covers all their assets.
Live remote online viewing of a selection from Viseum's partner network of field deployments, relevant to the buyer's application requirements.
Viseum IMC camera demonstrations use our general surveillance scouting profile which is popular for the majority of applications.
A presentation of our leading software capabilities will be included.
These demonstrations help our customers understand the unique benefits of Viseum camera deployments and Viseum Certified Partner (Agents or Resellers) can then learn more about the customer's initial projects and specific surveillance requirements.
Viseum IMC camera – Software Commissioning Process for Field Deployments:
Initial commissioning of Viseum cameras uses our most popular general scouting surveillance profile, from which the customer can understand its capabilities and can specify any niche surveillance requirements to be incorporated during commissioning.
The commissioning process can be achieved either prior to or during live deployments and typically take from just a few hours up to less than one week to deliver, depending on the levels of complexity.
Our Remote Managed Support Services allow the customer to have their surveillance requirements changed or modified throughout the lifetime of this service (minimum 3 years).
Feedback from the customer during this process can be used to reduce or even eliminate false triggers for when:
The PTZ Camera should follow an event.
The PTZ Camera should confirm an event.
An event should create a remote alarm.
Viseum Central Intelligent Video Management System (CiVMS) – Sales Demonstration and Evaluation
Viseum has made a version of this software available for evaluation and demonstration purposes. The Viseum CiVMS LITE has all of the features and functionality of the Viseum CiVMS deployment version, but it does not have any of the in-life 24/7/365 durable failsafe and disaster recovery features available for long-term operations.
The CiVMS LITE evaluation license gives access to all of the systems most commonly used iVOS software analytics surveillance modules, and all of its other operational features and functionality. During each 24 hour period, this software application will close down (following a closing down massage notice) and will need to be manually restarted.
This product's support is available via email with 24 hour response time.
Basic Evaluation Process:
The CiVMS LITE is installed onto one of the customer's servers and a license file is requested to enable a suitable number of camera channels for the evaluation.
Cameras can then be migrated onto the CiVMS LITE. A list of the many cameras that Viseum already supports can be made available. On the unlikely occasion that Viseum does not support a particular model of required camera, Viseum's integration team can be made available.
The customers will then start to learn more of the CiVMS benefits and can then procure the CiVMS deployment license and begin to migrate more of their camera streams, so that the entire security enterprise can become intelligent.
Advanced Evaluation Process:
Including the basic evaluation process, Viseum can also present its advanced functionality server software: Viseum CiVMS iVOS F3 – Viseum CiVMS iVOS FaceRec – Viseum CiVMS iVOS ANPR.
In addition to this, a list of the many access control systems, security devices, and Command and Control systems that Viseum already supports will be made available.
The following support documentation will be available:
Central Intelligent Video Management System Server – User Guide.
Central Intelligent Video Management System Client – User Guide.
Remote site, CiVMS server and CiVMS client checklists.
Remote site handover checklist.
Camera configuration guidelines.
Configuring multi-site client.
Using the Viseum Virtual IMC camera or other fisheye 360-degree cameras.
Using high-resolution video streams (3+ MP).
This downloads page holds sales collateral to help generate and win Viseum sales. This page is regularly updated with new sales collateral, including brochures, Product Solution Datasheets, PowerPoint presentations (many audio narrated) and white papers, etc. Each sales asset here also changes regularly with better sales messages taken from our most recent customer feedback.
> Viseum Sales Asset Downloads <