The CCTV and surveillance industry-standard deterrent and automated security and situational awareness
Viseum Panoramic Security Camera Patent Examination
After consistently losing every citywide CCTV project when competing against Viseum, a $2 billion manufacturer well known for network IP cameras, spent over $1 million in legal attempts to undermine Viseum's Patented Surveillance Technology, but failed.
They employed one of the world's leading intellectual property practices to undertake an extensive analysis of the validity of Viseum's granted European Patent EP1579399.  These experts applied their vast depth of knowledge in physics, electronics, engineering and computer science to probe the novelty and inventive step of the Viseum Intelligent Moving Camera (Viseum IMC). The extent of this investigation compared Viseum's claims with 3 inventions dating from before Viseum's patent was granted in 2002. The conclusion of this extensive exercise resulted in the British Patent Examiner stating that in their opinion claims of Viseum's patent are both novel and inventive over this suggested prior art.
> Download this published report <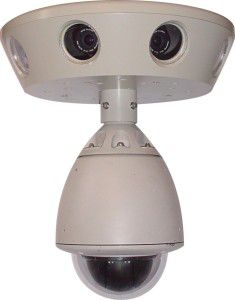 This competitor then broke international law by copying Viseum's patent. Attempting to limit their liability they over-engineered a quality compromised camera to "look like a Viseum" but without any Video Analytics Software or automatic camera control. It was shockingly designed and priced to only make profits from poor warranty and frequent downtimes:
The number and arrangement of cameras had little or no configuration for a customer's specific coverage and operation, and each camera sensor could not be selected for the customer's optical requirements.
The whole unit needed to be swapped out for any maintenance, which unnecessarily drained the customer's operational budget.
As with any patent infringement, its trade reseller is the primary target for legal action, which is, in turn, followed up by making the potential user aware of the infringing product's recall due to its illegal use. This is then followed up with full and complete legal action against the suppliers of such goods.
Viseum SafestCities™ National CCTV Strategy… The world's only fully automated and multitasking CCTV security ...

Learn More »
The Viseum brand is recognised for its patented configuration of fixed and moving cameras co-located on the same common structure. People who see an image of a Viseum camera configuration naturally think of Viseum being the internationally patent-protected CCTV brand. Any other brand of this configuration is seen as an illegal quality compromised copy, that generates more business for the Viseum UK Group. We operate a formal Branding Policy which is an integral part of the Viseum business.
> Download Viseum Branding Policy <
Major Step Change in CCTV Security and Surveillance The CCTV and surveillance industry-standard deterrent and ...

Learn More »
Governments' Public Safety Held To Account… After terrorist attacks, vast amounts of extra money is ...

Learn More »