PTZ Camera Array 180° – 360° Intelligent CCTV
Driven by Virtual Operator CCTV Monitoring VCA Software
Any configuration of Viseum's Panoramic 180° – 360° Intelligent PTZ Camera Array, working with any one of Viseum's CCTV DVR Camera Controllers, is known as the Viseum Intelligent Moving Camera, or Viseum IMC.
Viseum's Intelligent Pan Tilt Zoom PTZ 180° – 360° Camera Array is the ultimate versatile automated CCTV surveillance camera installation. It is a plug-and-play and modular in harware and software, for all types of application and environment. This IP surveillance camera uses multiple fixed contextual view cameras with one moving PTZ camera, to simplify permanent and temporary CCTV deployment options, for populated open space, and non-populated multiple or single attack intruder environments. Configured for entry level up to a full panorama coverage, each Viseum Intelligent PTZ Camera Array can protect any open space from a close proximity, up to a large open space the size of 14 football pitches, in all directions simultaneously.
Its multiple CCTV monitoring camera modules support any optical requirements by using any high performance PTZ CCTV security cameras with any specified high resolution fixed contextual view camera. Its automated 180° – 360° CCTV surveillance solutions giving maximum flexibility to operate as an unmanned standalone camera but with manual operator override if required for: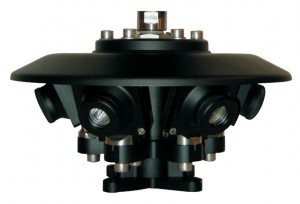 Manned and unmanned central control rooms, and
Mobile observation posts
PTZ camera Technical Specification:
Ruggedized IP67 rated weather proofing.
Installed upright or downwards for permanent or redeployable CCTV installations.
Quick release weatherproof speed-fixers for temporary CCTV or redeployable CCTV installations.
Weatherproof plug/socket connection multi-core cables designed to be used with the Redeployable CCTV DVR Camera Controller.
Fixed CCTV security cameras easily positioned to cover only desired areas, with pan and tilt adjustment using a single fixing bolt.
Available in 6 models depending on deployment weight limits, the number of Virtual CCTV Operator channels, and 60° fixed contextual view surveillance cameras for line of sight CCTV coverage:
V 6+1 – full 360° panorama (57,245 m²)
V 5+1 – 300° (47,704 m²)
V 4+1 – 240° (38,163 m²)
V 3+1 – 180° (28,622 m²)
V 2+1 – 120° (19,082 m²)
V 1+1 – 60° (9,541 m²)
Physical:
Weight:
Full 6 Camera Array 3.2 kg (each fixed camera 260g) – Pole or Wall Bracket 1.7 kg.
Dimensions:
Array 270mm (Dia) x 117mm (H) – Complete unit with typical PTZ 457mm (H)
Power Supply:
PTZ:
18V AC/24V DC – External 240/110V AC PSU, or built inside Redeployabe DVR Camera Controller.
Fixed Cameras:
12V DC – External 240/110V AC PSU, or built inside Redeployable DVR Camera Controller.
Maximum Power:
44 Watts (including typical PTZ).
Operating Temperature:
-15 to +55°C (standard) | -10 to +65°C  (high temperature model) ! ‐40°C to +40°C (low temperature model).
Industry Leading Optics: Our most popular Intelligent PTZ Camera Array uses the best available camera technology, to deliver information and evidence needed using today's DVR storage and wireless transmission technologies. The Viseum system digitises these cameras to benefit from secure IP communications freedom.
Advanced day/night PTZ camera: Viseum AiPTZ, BOSCH MIC, Pelco Spectra and Esprit.
180° – 360° fixed contextual view automated CCTV surveillance cameras (most popular model):
Our standard models are the most suitable for 60° – 360° outdoor open space day and night CCTV surveillance.
They use high resolution Sony Ex-View 1/3" CCD with 570+ TV lines.
Fixed lens 4.3 mm 60° horizontal view, Near IR low light sensitivity 0.005 lux.
Mono or colour/mono switching models available.
Inset window for additional weatherproofing.
Main benefits of Viseum UK's PTZ camera systems:
Proven to clear up at least 15 times more incidents that any other CCTV camera, with at least 25 times more court quality evidence.
Largest effective CCTV Monitoring range – 2m up to 135m constantly in any direction, for coverage up to 14 football pitches.
Operates completely automatically (with manual override)
Onboard recordings for primary use or backup storage.
Up to 7 cameras in a single unit.
View our corporate presentation »