"The best 360° intelligent surveillance camera & security system"
(London Surveillance Officer, Major UK Police Authority)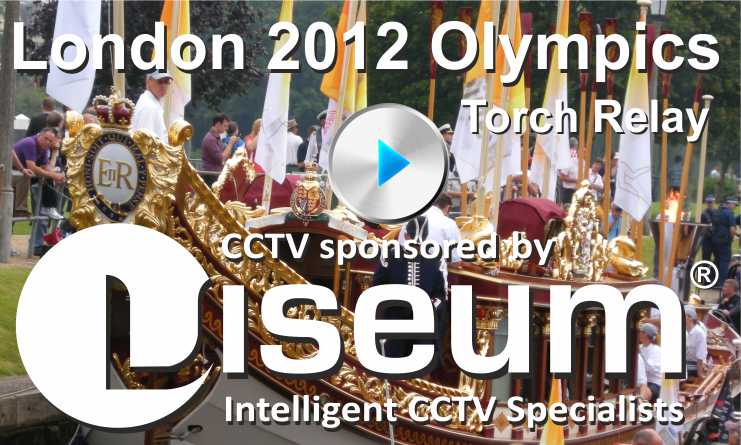 Viseum UK intelligent CCTV solutions receive many public body endorsements for delivering reassuring security to all, from the general public to the most important people and assets throughout the world.
Example – the 2012 London Olympics Torch Relay event demanded effective 360 security & surveillance camera coverage, but lacked the necessary communications and power infrastructure to support conventional CCTV. Our Rapid Deployment CCTV Surveillance System was the perfect solution.
"The risk and potential adverse impact of any mishandled incident was simply too high.
This made Viseum the only security solution we could trust" (London 2012 Olympics Event Security Manager).
The world's leading intelligent CCTV security cameras, intelligent video analytics surveillance monitoring software, and open platform video management software, for: Automated Security and Situational Awareness in Complex and Challenging Environments. Our globally-patented panoramic surveillance CCTV camera uses significantly fewer cameras to cover much larger areas than any other CCTV camera technology. Our best-of-breed video content analysis software monitors all of our intelligent CCTV security solutions, and can be optimised to automate any video surveillance application. Our auto-intelligent Pan Tilt Zoom cameras automatically exploit Face Recognition, Person Recognition and Vehicle Number Plate Recognition (ANPR), to automatically detect, re-identify and follow people and vehicles through CCTV networks.
Our CCTV operator training helps security enterprise deliver stronger operational security with far fewer  CCTV operators than any other technical solution. Security staff and Emergency Services have instantaneous Situational Awareness & Decision Support, and the judiciary can be furnished with a continuous, unbroken and irrefutable thread of video evidence. Our holistically integrated CCTV surveillance security systems significantly out-perform any other crime reduction methods. We deliver the strongest possible deterrent and the most effective video surveillance cameras, to protect assets, property, staff and customers of any sized public or commercial activity.
d
> Viseum's Unique Benefits Presentation <
Intelligent 360° CCTV panoramic IP surveillance cameras
 Remote CCTV Monitoring | Redeployable CCTV | Rapid Deployment CCTV | Remote Standalone CCTV | CCTV Service
 > Viseum CCTV Design Architecture <
 The only Intelligent CCTV surveillance camera in the world to deliver:
Automatically & concurrently watching and protecting everywhere it's asked to -
and at the same time…
Automatically monitors in all directions at the same time, with specific areas easily prioritised. Multiple suspects, directions and speeds handled with ease. See our airport surveillance and perimeter security solutions.
Each Viseum surveillance camera produces at least 25 times more court quality evidence than any other camera installation, better coverage than 200 fixed CCTV monitoring cameras and better value than at least 5 of any other advanced 'constantly manned' outdoor PTZ surveillance cameras.
Multiple incidents and diversion/distraction tactics are handled with automated ease. Viseum surveillance cameras automatically follow, zoom capture and intelligently switch between dispersed concurrent scenarios.
"A reassuring ubiquitous security presence that never blinks, never gets tired or distracted."
(Senior Military Security & Contingency Planning Officer)
The alternative is hundreds of resident security staff constantly on on duty alert -
to cover every event in every location…
People rarely commit or plan crime if they see their every move being watched and recorded. Would-be offenders cannot differentiate between an actively watching human operator and Viseum's overt iVOS surveillance cameras.
Our intelligent CCTV surveillance cameras are multitasking by providing Situational Awareness and utility for many agencies and activities: from cuing staff to warn off criminal activity, through to lone worker supervision, quantity surveyor checks, works operations, etc.
Security successes delivered by Viseum Intelligent surveillance cameras strengthen their deterrent value even further in a viral way through word of mouth in the criminal community
"A highly visible long-term monitoring deterrent to would-be offenders."
(UK Control Room Manager)
Producing evidence when needed with intelligent CCTV surveillance camera automation…
For primary evidential use, or back-up storage, close-up recorded evidence is matched with wide contextual view recordings which are stored locally inside each panoramic intelligent CCTV surveillance camera array's built-in evidence locker, which makes it readily available for rapid investigations.
Clearing up crime investigations in the most effective and efficient way possible. With Viseum's automated video interrogation software, Intelligent Videosweeper, evidence can be found automatically up to 5,000 times faster than with the naked eye.
Multipurpose 180°–360° panoramic intelligent CCTV cameras produce evidence of criminal activity as well as providing information on local intelligence and other information, such as traffic management.
"In today's regime of restricted budgets, the ability to undertake continuous monitoring without
the cost of continuous staffing is extremely attractive" (UK Control Room Manager.)
Effectively protecting any community or asset in any environment or situation…
Viseum's 180°–360° panoramic intelligent CCTV surveillance camera system has a modular setup to simplify both permanent and temporary outdoor CCTV surveillance camera deployments, for use in populated open space, or remote, uninhabited multiple or single attack intruder environments.
When set up for targeted entry level, or full panoramic coverage, the Viseum 180°–360° panoramic intelligent CCTV surveillance camera system will protect any open space, from close proximity, up to the size of 14 football pitches, in all directions and at the same time.
Our intelligent CCTV surveillance camera modules support all optical requirements by using any high performance panoramic 180°–360° outdoor PTZ camera together with any high resolution fixed contextual view camera.
"The only better solution would be having police constantly there"
(UK Safer Neighbourhoods Police Warden)
 360° CCTV surveillance camera & intelligent CCTV monitoring
Highly effective indoor and outdoor security 360° CCTV panoramic IP camera surveillance
Countering all threats across the spectrum: from anti-social behaviour and petty crime to serious assaults, criminal activity and terrorism. We have no realistic competition for technical performance and reliability, because we are the only security solutions manufacturer, to design products based on a risk assessment philosophy of "it could happen to us - here, today". We are also proud to present our Intelligent Virtual Operator Software: Viseum iVOS. When installed, iVOS becomes the ever-alert CCTV operator in the security control room – discerning potentially suspicious or dangerous activity within a sea of mundane and routine activity. iVOS never blinks, gets distracted or tired. Plugging straight in to optimise your current security  investments and legacy systems, iVOS "Force-Multiplies" your surveillance ability, frees security staff from mundane monitoring tasks & primes them for quickly and correctly responding to security situations. The military call this ISTAR – Intelligence Surveillance Target Acquisition and Reconnaissance – we call it common sense in a high value commercial or public place.
360 CCTV surveillance monitoring software
As patent innovators for intelligent CCTV surveillance monitoring software, our focus on Intelligent Moving Camera technology remains a key strength in bringing a ground-breaking range of surveillance monitoring solutions to mainstream mass market sectors. To assure and consolidate our dominance in the intelligent surveillance camera and monitoring marketplace - we use the exact same powerful and constantly evolving software in all our solutions.
Viseum's iVOS monitoring software is recognised as having set the security industry's gold standard for intelligent video content analysis (VCA).  Viseum iVOS is the heart and brain of every Viseum security camera installation and each Viseum central intelligent video management system.
Intelligent, Panoramic Surveillance of Every Arc: No Gaps. No surplus cameras
Viseum's future-proof CCTV security and surveillance camera systems produce the absolute best security results. With our cutting-edge technology there are no gaps, or redundant overlaps in our solutions. Our end users can provide the optimal security services with the lowest burden of CCTV camera installations, storage capacity, communications infrastructure & surveillance staff costs overheads.
A typical Viseum IMC installation of around 100 security and surveillance cameras will deliver ubiquitous, all-seeing protection over an area of approximately 6km². Far behind this – the "next best competitor" 180° panoramic megapixel camera solution, would require 1000 cameras at much higher initial cost and completely unrealistic overheads in terms of monitoring staff, memory server storage and communication capacity.
> Download next best camera comparison <
 Viseum's unique benefits presentation»