PTZ Camera IP Surveillance…
Solving today's IP surveillance camera security challenges using Viseum's PTZ network camera
Until now wide-area IP surveillance security has always been the most technically problematic to deliver and has placed the greatest strain on resources to support. PTZ Camera installations needed to be controlled and monitored by surveillance operators in order to monitor and point them in the right direction.
Security organisations around the world spend millions each year, many with large numbers of permanent staff, trying to collect suitable IP surveillance images, searching through days or even months of video for just a few seconds of crucial evidence. The vast majority of these efforts result, daily, in lengthy reports as to why the evidence available could not be used because the incident did not occur close-up to the camera, or was missed completely because the PTZ Camera was pointing the wrong way.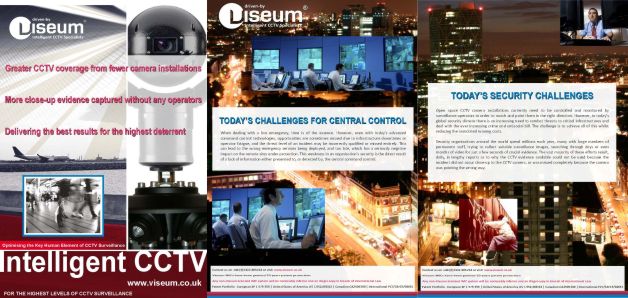 Intelligent surveillance – Standalone or Centrally Controlled
Today's future-proof IP surveillance camera and PTZ network camera
The Intelligent Moving Camera
Viseum UK supplies the only Intelligent IP surveillance camera and IP PTZ Camera in the world to automatically detect all activity in all directions at the same time, automatically control pan, tilt and zoom (PTZ) cameras to zoom into and follow the required action, capture high-quality close-up and wide contextual view video evidence; and automatically produce it for rapid investigations.
At the heart of all our IP surveillance camera and IP security camera, solutions are the patented Viseum Panoramic Security Camera. This uses multiple fixed cameras and one moving PTZ surveillance camera in a single unit, with advanced Video Analytics Software called Intelligent Virtual Operator Software (iVOS), to detect, zoom into and follow all suspects no matter where they each enter, circulate or leave the site. It is modular hardware configured to cover a targeted area or provide vast simultaneous full 360° panoramic automated coverage, up to the size of 4 Olympic Stadiums from just one IP surveillance camera installation.
Best value IP surveillance camera
It has been independently endorsed that it would take at least 6 times more installations of any other advanced IP surveillance PTZ camera solution, or at least 10 of the industry's latest panoramic megapixel cameras, or a minimum of 200 times more standard fixed camera installations, to provide the level of security that each Viseum outdoor surveillance camera provides without being dependent on any surveillance operators or IP surveillance infrastructures.
The best long-term IP surveillance deterrent
Criminals are always deterred where cameras perform as if "manned" and once they see Viseum's overt IP surveillance camera model follow them they believe a proactive human operator has already spotted them. This is well proven to deter the threat of criminal behaviour, better than any other crime reduction initiative short of having resident security staff constantly on alert.