Viseum UK's Automated Surveillance Respecting Privacy
New computerised CCTV surveillance cameras detect and confirm threats from 1 metre out to 39 kilometres 
The Viseum UK Group Intelligent CCTV Surveillance Company has developed a video surveillance technology, which can keep us all safe from crime and violence whilst protecting our Right to Privacy.  Stuart Thompson was a recognized innovator with British Telecom, where he led the development of the high-speed modems that introduced broadband internet. He has now used his high-speed expertise and ingenuity to develop an award-winning Intelligent Panoramic Security Camera system that will passively observe and ignore innocent goings-on, but quickly alert human operators to suspicious or dangerous activity. In addition to crime-busting on Britain's streets, The system can significantly enhance Homeland Security whilst unobtrusively safeguarding our schools or our elderly and vulnerable citizens in care homes and hospitals.
Stuart Thompson is President and owner of Viseum UK. He reminds us how the Director General of MI5 recently warned that thousands of Islamic extremists living in the UK, currently saw their British home as a legitimate target (Gardner, 2013). He adds that the UK Home Office also admitted the E-Borders programme had failed to detect and intercept major crime suspects at our national borders (Travis, 2013). Elsewhere at another end of the spectrum, the CQC recently recommended surveillance camera installation in care homes to protect vulnerable adults from abuse by a few reckless and abusive members of staff (McGinty, 2013). In a busy, populated area, these all represent significant albeit very different security challenges that have dogged ordinary CCTV providers and the security industry for decades.
"Discerning suspicious and potentially harmful indicators within a sea of mundane, innocent routine is a needle-in-the-haystack task, that human beings are exceptionally bad at." (Britain's Largest Police Force)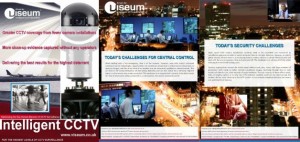 The solution is a computer-automated CCTV system, optimized for complex and challenging environments where we live and work. Viseum UK's globally patented Intelligent Moving Camera (IMC) is controlled by iVOS an Intelligent Virtual Operator Software. Viseum Intelligent CCTV Systems can recognize and track suspicious activity, known terrorists and other criminals, with far greater reliability than any human CCTV operator. The system uses a ring of automated surveillance cameras to passively watch in every direction and be aware of all activity around them. The system quickly learns its surroundings and "normal" activity. However, footage of routine events stays within the camera unit – unseen by humans. Only when the iVOS Virtual Operator detects unusual or potentially suspicious and dangerous activity, will a human operator in a central control room, be alerted. The security operator will be shown edited footage of what the Viseum system spotted. He can then alert the authorities, emergency services or security patrols and guide them onto the scene. In the meantime, the Intelligent Moving Camera system has automatically started its evidence collection mode. It takes control of a high-quality PTZ (pan, tilt and zoom) Camera to capture forensic quality images of what is going on and who is involved. The Find, Fix, Follow (F3) capability uses behaviour algorithms, plus face, person and vehicle number plate recognition technology to track a suspect or perpetrator wherever they go within the streets, buildings and corridors covered by the Viseum camera network. Viseum iVOS is just as good at detecting a suspiciously abandoned package, disorder, a neglected patient, or a harassed lone female late at night. However, should there be nothing untoward going on, then the images stay within the system's hard drive to be recorded over at a specified time.
Depending on the camera hardware used, each of these Viseum camera installations delivers surveillance security from close quarters in a room, through to an airport and up to an area the size of New York City. Viseum's technology is well known for the positive impact it has had upon crime and antisocial disorder in the world's public spaces. Conviction statistics show that criminals have good reason to fear them.
Viseum highlights that it aims to optimize and supplement the human response to security incidents, rather than replace them completely. Viseum's military force-protection and security experts, term this as "force-multiplication" freeing up people to do what they do best – interact with other people. Viseum Security and Surveillance Solutions are the best, we offer security practitioners continuous 360 degrees of surveillance coverage across any area of responsibility, without the need for hundreds of CCTV cameras and valuable monitoring staff. It will also provide instantaneous forensic analysis of a previously unknown perpetrator's movements before and after the event. We can present patrols, incident commanders and the judiciary with an unbroken golden thread of video evidence, about what happened and who was involved. Viseum adds, "Viseum iVOS can also contribute to and enhance wider security at hospitals and care homes where intruders may attempt access or confused patients might wander off".
Viseum has recently visited the USA to take part in a technology showcase at "Government Security Expo" in Dallas Texas. It was striking though not surprising that we share so many security challenges with the States. Local police chiefs, military base commanders, university campus supervisors, care home providers and Homeland Security practitioners all shared a fear of the low probability but high impact event that could occur within their area of responsibility. To use military description, they want perfect "Situational Awareness and Ground Truth" before, during and after an incident.
For further information on this and other Viseum news and products, please contact Viseum  via:
For more information on the Viseum intelligent surveillance systems please visit https://www.viseum.co.uk
References
Gardner, F. BBC news security correspondent (2013) MI5 chief Andrew Parker warns of Islamist threat to UK https://www.bbc.co.uk/news/uk-24454596 [Accessed 16/12/2013]   Travis, A. The Guardian home affairs editor (2013) UK e-borders scheme failing to make immigration checks https://www.theguardian.com/uk-news/2013/oct/09/e-borders-scheme-failing-to-stop-terror-suspects [Accessed 16/12/2013]   McGinty, L, ITV news science and medical editor (2013) Should care homes be monitored with hidden cameras? https://www.itv.com/news/2013-10-15/should-care-homes-be-monitored-with-hidden-cameras/ [Accessed 16/12/2013]