London MP puts mixed-race child's life in danger, by proving themselves incompetent defending Bexley Council's Institutional Racism
Constituents go to their MP's when they have experienced significant problems and they have exhausted all other options with nowhere else to turn. On 06/07/2018 Dad went to his MP, pleading for his help. This MP then said, "Tell your wife you have both done what you can, you have worked very hard and this is now in my hands to help your child". But, just a few months later on 07/09/2018 he aggressively confronted Dad shouting false accusations from the perpetrators saying, "I refuse to believe this is racism" and "I may be wrong and your child is no longer living with you because they have not had the treatment they need." This left the family with nowhere else to turn and one year then passed, the child attempted to commit suicide on several occasions, Mum and Dad defended their child's rights but still no support.
On 13/09/2019 Dad explained to this MP that his family's legal action against Bexley Council was delivering good results, but his child was still living in the home that Bexley Council had already formally deemed as unsafe for them to live. This MP said to Dad, "You feel that you have been let down by the council and I share that view". This MP agreed that he was misled by Bexley Council over a year ago back in 2018. He also agreed that his 1 sole action in May 2019 using Mum and Dad's legal evidence prevented Bexley Public Services from collaborating. This delivered immediate successful results that we have proudly called "From Pier to Prom". It is now public record how this MP's 1 sole action has endorsed and proven Mum and Dad's legal action against Bexley Council, proving how this council is using minorities to improve the lives of their English constituents and to reduce their workload.
This mixed-race family's major development – On 21/10/2019 Mum asked this MP to repeat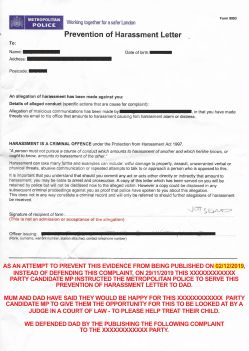 this 1 sole action, but instead of proving how the school must stop conspiring against her family, Mum asked him to prove this to Bexley Children's Social Care Services. Although this request was essential to help this child, this MP would not do this. It appears that his 1 sole action in May 2019 inadvertently delivered so much remarkable success, he very clearly could have prevented this child from considering suicide throughout the year. So, it now also appears that he is preventing this child's right to have a family life just to avoid the risk that his entire year of inaction will make him look bad. Mum and Dad filed a complaint against this MP, but instead of defending it, showing clear signs of their guilt this MP used the Metropolitan Police to serve a Prevention of Harassment Letter to Dad. Also, clearly knowing how racially discriminating his council is, this MP said, "The name of Bexley Council's Chief Executive is Jackie Belton, but she will probably also not think this is important, so she will get someone else to deal with it."
Bexley Council is depriving minority-race families of their basic human rights conspiring with their schools ...

Learn More »

Bexley Council Chief Executive Jackie Belton
On 07/10/2019 Mum and Dad wrote to Jackie Belton, "Having published the facts about Bexley Council's corruption in our case in 2018, and considering how damaging this content is for Bexley Council, if Bexley Council could disprove any of this, then we would have at least received a request to delete it. Bexley Council has, therefore, no option other than taking ownership of its mistakes and to put right what it has done wrong to our family. I am sure you will understand the more Bexley Council attempts to delay, the more damage this will result for Bexley Council and our family". Corroborating the MP's statement, Jackie Belton has chosen to ignore this heartwarming cry-for-help. Jackie Belton's lack of any response clearly shows her council's admission, but instead of taking ownership, it appears she has been advised that her best course of action is to continue turning her back and deal with the flak when it comes to them.
Pier to Prom – Mixed-Race Child to Teenage Role Model… This mixed-race family's greatest achievement ...

Learn More »
This is a remarkable family. In fact, the only minority-race family clever enough and strong ...

Learn More »
Publishing Notes:
This is the world's first publicised escape for a minority-race family from the clutches of one of the UK's most racially discriminating councils. Clearly, Institutional Racism has finally picked on the wrong minority-race family. Currently anonymous to protect the children, you can follow this family who is becoming known as the family who beat England's racially discriminating establishment. Mum and Dad have given an exclusive interview to journalist Philip Ingram MBE. Philip is also managing all requests for Mum and Dad's interviews and TV appearances, and we are expecting many more minority families to come forward and share their experiences. 
Viseum® Community SafetyWatch® – Vision and Mission
Harmonising Life Forever is the mission for Viseum® Community SafetyWatch®. For this to become a reality we are helping our communities to call out discrimination wherever it appears. Our vision is for everyone to live and work safe and secure, and because of this, we are supporting the fight against Institutional Racism.
This fight is being led my Mum and one of the sponsors is Viseum® Community SafetyWatch®. For contacting Viseum® Community SafetyWatch® Press Office. Please email only and our response will be within 48 hours: press.office@viseum.co.uk. REF: VISCSW8836 – MINORITIES ESCAPE HUMAN RIGHTS ABUSE. Press packs also include case files against all perpetrating organisations with 5 years of correlated verified and legalised hard factual evidence of Institutional Racism:
Chapter 1 "Bullying and victimisation" 2014 – 2016.
Chapter 2 "Treatment" 2016 – Today.